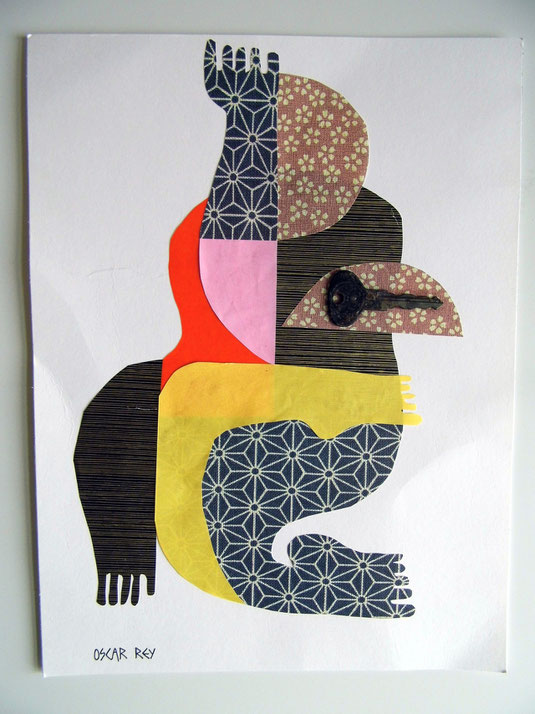 Good Morning Karachi
https://soundcloud.com/noland-fm

http://gebruederteichmann.net/
Few months ago by chance and because a friend in common we (My wife Kichi, my son Tomeji and I) ended up eating in a stranger's house Andi Teichmann.
He was extremely friendly, cooking a delicious pasta, introducing us to a group of really interesting people and his lovely son and wife.
At the end of the night he gave us a CD "It is our latest project, check it out" the name was "Karachi Files"
And all can I  say  is this album is full of beautiful experimental music, that I heard almost every day and I started to make a painting of every each song of the record.
Here is Good Morning Karachi
32 x 22 cm  collage on paper

Thanks for everything
Good Morning Karachi
https://soundcloud.com/noland-fm
http://gebruederteichmann.net/
Hace unos meses por casualidad y gracias  a un amigo en común mi mujer Kichi, mi hijo Tome y yo acabamos cenando en la casa de (para nosotros) un  desconocido Andi Teichmann.
Fue muy simpático, nos cocino una pasta deliciosa y nos presento a un grupo de gente realmente interesante y a sus adorables mujer he hijo
Al final de la noche, nos dio un CD "es nuestro ultimo proyecto, echadle un vistazo" el nombre era "Karachi Files"
Todo lo que puedo decir es que este disco esta lleno de música experimental increíble, que lo escucho casi todos los días y que he comenzado a hacer una pintura de cada una de las canciones del álbum.
Esta es Good Morning Karachi 32 x 22 cm ensamblaje sobre papel
                                                                                                                                                                                         Gracias por todo